For this brief, we asked to take a food product and create
an advertising
campaign spanning across three media channels. We could choose which kind of platforms these could be on and the ones I have chosen was TV, Underground posters and the physical product instore with a combination discount for a piece of fruit to go alongside the juice drink.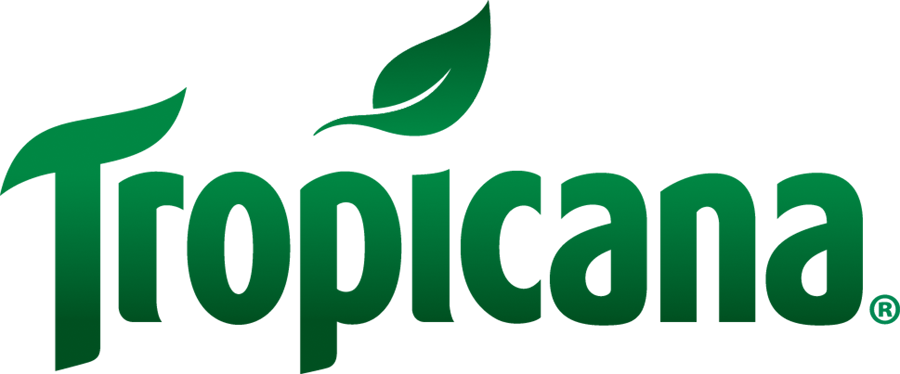 The product I chose to advertise is 'Tropicana'. I chose this product because I feel like the brand values are very clear and concise, this helped me understand the brand and the product itself along with brand association.
This scan shows the ideas I had for the 360 campaign. I would completely change the logo design and take the original and create a more funky design.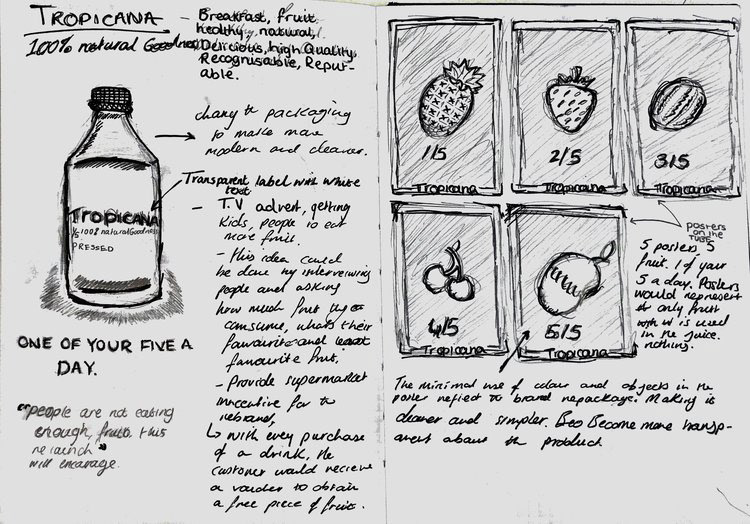 You can see here how the logo has already changed, the direction the changes are making seem to be aiming for a more sleek and unified aesthetic to the brand and product.
POSTERS
The second platform I will use to advertise this campaign is through the underground poster and posters in general but they will have to be in a large form factor. I would have colourful pastel coloured posters with a minimal graphic of a fruit with a tagline and then the Tropicana branding underneath, I would be taking on the form factor of the brand values of the product by producing 5 posters they will each be numbered this will support the idea that the drink contains one of your five a day and that there are five posters to promote this.
​​​​​​​
TV
My idea for the TV side was to set up a sort of interview with the target demographic of Tropicana and ask them how they consume their favourite fruit, what is their favourite fruit and veg and how frequently they eat those food products. After the questions would be asked, they would be given the newly refreshed product of Tropicana and will be asked to consume the product, followed by the fact of how natural and organic Tropicana juice drink is and how it is 1 of your 5 a day.
PRODUCT
The third and final format would be the actual physical product itself, this would entail a refreshed look at the packaging and keeping it up to the modern standard that we are all familiar with in the 21st century. When purchasing the product in a retailer, the inside labelling will contain a special promotion that would run for a limited time which would enable the customer to receive a free piece of fruit. This promotion is the strong pushes that would propel the brand values to the target audience and the people who purchase the product.